Adult Programming
ADULT GYMNASTICS CLASSES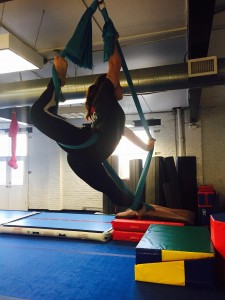 Class is ONGOING and DROP-IN style, please check website for updates or cancellations.
Adult Tumbling: Basic through intermediate gymnastics skills will be introduced in a progressional manner, depending on individual needs. Rolls, cartwheels, round-offs, walkovers, front and back handsprings are some of the skills that will be explored. Work within your level and feel comfortable every step of the way. Beginners welcome. Experienced gymnast, looking for the perfect place to hone your tumbling skills? This class is your answer!
Mondays 7:30-9:00pm
Thursdays 7:00-8:30pm 
NEW CLASS: Adult Circus Training: This class will explore beginner to intermediate moves on a variety of aerial apparatus including aerial hammock, trapeze and lyra. Students will also have the opportunity to work on supplementary skills such as handstands, shoulder stands, and backbends. No experience necessary. Class packages can be used for both adult aerial and adult tumbling classes (no expiration).
Wednesdays 7:30-8:45pm
PRICING FOR CLASSES:
Single class: $15
Package of 4 classes: $50
Package of 8 classes: $90